Temporary Cooling and Heating Hire for the Plastics & Paper Industry in Ireland
Providing flexible, cost-effective, high value heating and cooling solutions for plastics & paper industry, Carrier Rental Systems combines the experience of a major equipment manufacturer with the expertise of being a leading player in the international HVAC equipment rental market.
Providing a rapid response with high quality, reliable equipment, Carrier ensure that you get the best service from our customer response team. Our specification engineers can help you work out the perfect plastics & paper HVAC systems for you. In addition to this, our experienced technicians service and maintain our rental fleet, ensuring that they are fully tested prior to mobilisation.
On-site, Carrier Rental Systems' team of technicians can install, commission and remove equipment, saving you time and money. You can be confident that our optimised solutions will cut down running costs to the minimum, maximise performance and protect the environment.
Carrier Rental Systems have many years direct experience providing heating and cooling solutions to the plastics & paper industry using the following HVAC equipment:
Bringing the benefits of additional production capacity to the plastics & paper sector
By supplying stand-alone heating and cooling solutions, we can quickly attach equipment to your permanent systems. By supplying equipment to complement existing on-site capacity, we can increase your output without capital costs.
We can provide immediate 24 hour availability of chillers from 5kW to 5000kW, air conditioning from 2kW to 2000kW, portable spot cooling and space heating. Hot water boilers and complete temporary plant rooms are available from 50kW to 2000kW – giving permanent specification on a temporary basis.
Supporting you
Carrier Rental Systems has the experience to support clients with a completely flexible approach to any rental needs. With our experienced design team we can ensure that you get the best solutions for your needs, including 24 hour cover throughout the rental period.
In addition to the customer support and extensive help setting up your systems, we also offer a complete package of ancillary equipment and turnkey management. This can include services such as power supply management, road closure, crane hire, scaffold hire and many other services.
The following are example case studies of our equipment used within the Plastics & Paper industry:
Manufacturing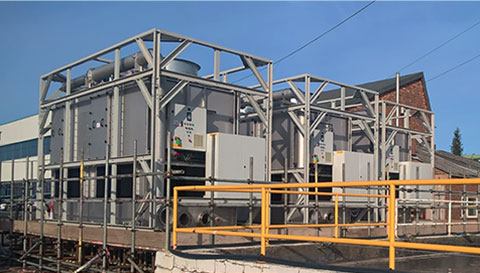 This specialist manufacturer of aircraft brake linings was experiencing interruptions to production as a result of poor temperature...
Read Full Case Study
Manufacturing
We had a call from our Carrier Service Division looking for us to provide a rental solution for their client as they were in urgent need...
Read Full Case Study
Manufacturing
Progressive failure of a low temperature process cooling chiller plant was limiting production at this chemical processing facility...
Read Full Case Study