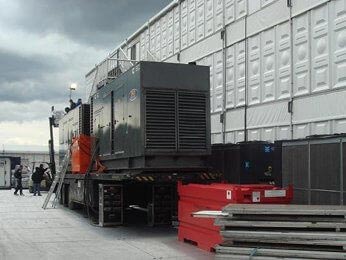 From the Commonwealth Games to local festivals, feature films, government meetings and international tours, our portfolio of successfully completed generator hire projects speaks for itself, giving you the confidence that comes from our experience.
Our equipment has been specially designed to meet the demands of the event industry including items such as:
Silenced generators
Temperature control equipment
Cable and Distribution
The proper sizing of the project is key to effective performance and cost control. For events needing large amounts of reliable power, Carrier Rental Systems supplies discreetly packaged, multi megawatt power generation units. Our specially designed synchronised generators ensure uninterrupted power supply, critical for this industry.
Generator Hire for Events
Carrier Rental Systems Ireland offers fantastic generator hire for events, which are perfect for special events and occasions. We can also provide a full temperature control solution in the event of main equipment failure and spot cooling processes. Carrier Rental Systems is ideally situated to provide energy solutions for server rooms, telecommunications rooms, offices, schools, waiting rooms and other public areas.
Whichever industry you are in, and whatever it is that you are heating, cooling, drying, whether on a temporary or permanent basis, Carrier Rental Systems will have a solution.
Our Service
Carrier Rental Systems Ireland provides generator hire for events to a wide variety of clients working across a diverse range of industry sectors. These are available to clients either on a temporary rental basis or permanently through our sales department.
These units are provided for rental and hire as well as for sale to facilities companies, building service companies and refrigeration companies as well as direct to end users, providing rapid cooling solutions to very demanding and temperature sensitive areas such as Server Rooms or Telecommunications Rooms. This has enabled Carrier Rental Systems to gain a huge amount of experience to ensure client's operations are maintained.