Process Chillers Have Been Designed For Hire With Your Industry In Mind
Carrier Rental Systems Ireland have unrivalled knowledge and capabilities in the field of temperature control and process cooling. We offer a complete range of high performance, high efficiency cooling and heat pump-based solutions.
Our combination of in-depth technical experience and comprehensive equipment range means we can cater for all scales and types of temperature control and process cooling applications.
Some of our capabilities and applications include:
Food & Drink Production
Soft drink production, processed and fresh ready meals, yogurt and milk production, chocolate cooling, biscuit production, sugar manufacturing, seafood processing, fresh crop picking and storage.
Manufacturing & Process
Plastic extrusions and injection moulding, motor vehicle manufacturing, glass production, sheet metal and steel works, cosmetics manufacturing and storage, paper mills, ship building, engineering process.
IT & Data Centres
Computer suites, server rooms, telecoms facilities.
Healthcare & Education
Cooling for MRI and CT scanners, operating theatre cooling, comfort cooling and heating forwards, temporary steam boilers for hospitals, mortuaries, server room cooling, universities, local government bodies, schools, hospital deionised water cooling.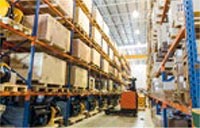 Warehouse & Storage
Cooling for storage of prescribed medicines and blister packaging, optimising air conditions for perishable food goods, cooling solutions for Low Temperature chilled storage.
Carrier Rental Systems Ireland also has an extensive range of Portable Air Conditioning Hire units suitable for all applications ranging from 2kW up to 10kW.