Major Hospital Chiller Project Marks Launch of Carrier Rental Systems in Northern Ireland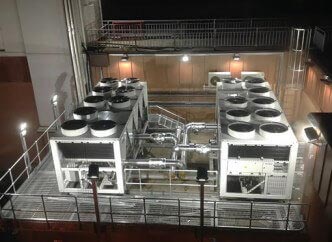 A major chiller replacement project at a Londonderry hospital has been delivered with the help of Carrier Rental Systems.
The company, which recently opened a branch in Lisburn near Belfast, was asked by contractor R J Smyth Engineering to provide a temporary cooling solution while existing chillers at Altnagelvin Area Hospital were replaced with new high efficiency Carrier chillers.
The Omagh-based contractor, which specialises in industrial and commercial building services and process cooling, worked with CRS to co-ordinate delivery of the rental chiller to cover the six week replacement project.
The brand new 500kW air-cooled Carrier hire chiller was unloaded onsite via a Hiab lorry and craned into position beside the building. It was equipped with temporary 4in pipework and connected to 4in PN16 flanged connections, with power supplied from the hospital's mains via a 400 Amp breaker.
CRS engineers connected up and commissioned the chiller, with onsite pumps circulating chilled water to and from the unit.
Darren Smyth, who headed up the project for R J Smyth Engineering, said:
"Space on site was fairly tight, as we had to position the temporary chiller alongside the hospital, next to the recycling area. However, there was plenty of room for airflow on both sides, so performance was unaffected."
He added:
"A key consideration in the project was that the hospital had to continue to function without interruption. The chillers provide cooling to the hospital's air handling units, wards, operating theatres and data centre. Therefore, the changeover between the old and new chillers had to be seamless.
"The temporary chiller enabled us to do this without loss of cooling, giving complete assurance to the hospital. We were very pleased with the service and back-up provided by CRS and would certainly use their services again for similar temporary cooling projects."
Given the hospital setting, it was important that noise from operating plant was minimised. The Carrier 445 chiller supplied is equipped with built-in acoustic panels that attenuate sound produced by compressors and fans, and ensure building occupants are unaffected.
A spokesman for the hospital's estate services department said:
"The project was far from straightforward, and for obvious reasons it was very important to ensure continuity of cooling throughout the process.
"However, from start to finish, the project was superbly organised and managed. It was a text book example of how to do things. Overall, it was delivered with precision and was a credit to all concerned. I was very pleased with the contribution of both the contractor and CRS, for their professionalism and attention to detail."
The new CRS location at Rosevale Industrial Estate, Lisburn, is headed by Brian Woods, and the hospital project was the first in a series of temporary cooling hire solutions now being delivered across the region, he says.
These include a rental chiller for a leading pharmaceuticals company at Craigavon, following a compressor breakdown on an existing chiller.
Brian Woods said:
"The plant provided essential cooling for the manufacturing process, so it was vital to have the replacement unit onsite, piped-up and working quickly,"
"We were able to deliver the unit and get it commissioned in double quick time, ensuring downtime was minimised and costs contained."
Other projects in the pipeline include a large office development in Dublin, requiring a temporary cooling solution while a problem with the main chiller is repaired, plus a food production plant whose main chiller has developed a fault.