Carrier Rental Systems Adds New Fleet of Very Low Temperature Cooling Solutions
New equipment provides customers with a complete set of solutions covering all temperature control requirements.
WEST DRAYTON, England, 23 June, 2021
Carrier Rental Systems, the leading temperature control specialist in the UK and Ireland, has invested in a fleet of very low temperature (VLT) cooling equipment for use in the chemical, power generation, pharmaceuticals, and food production and distribution industries. Carrier Rental Systems UK Ltd is part of Carrier Global Corporation (NYSE: CARR), the leading global provider of healthy, safe and sustainable building and cold chain solutions.
The VLT fleet includes chillers, dry coolers and low temperature air handling units (AHUs) able to provide cooling down to minus 45degC, using a high performance refrigeration system based on R-449A refrigerant linked to a secondary glycol circuit. The refrigerant's Global Warming Potential (GWP) of 1282 is 67% lower than that of outgoing high GWP refrigerants R-404A and R-507, and is up to 12% more energy efficient – ensuring reduced environmental impact and lower running costs.
The chillers are paired with high-efficiency, inverter-driven VLT pumps with high-performance bearings and seals to handle low temperature fluids. Units are built in a crash-frame for safe shipping on a pallet.
The new very low temperature (VLT) chiller (above) pairs with the VLT dry air cooler (below left) and VLT air handling units (below right)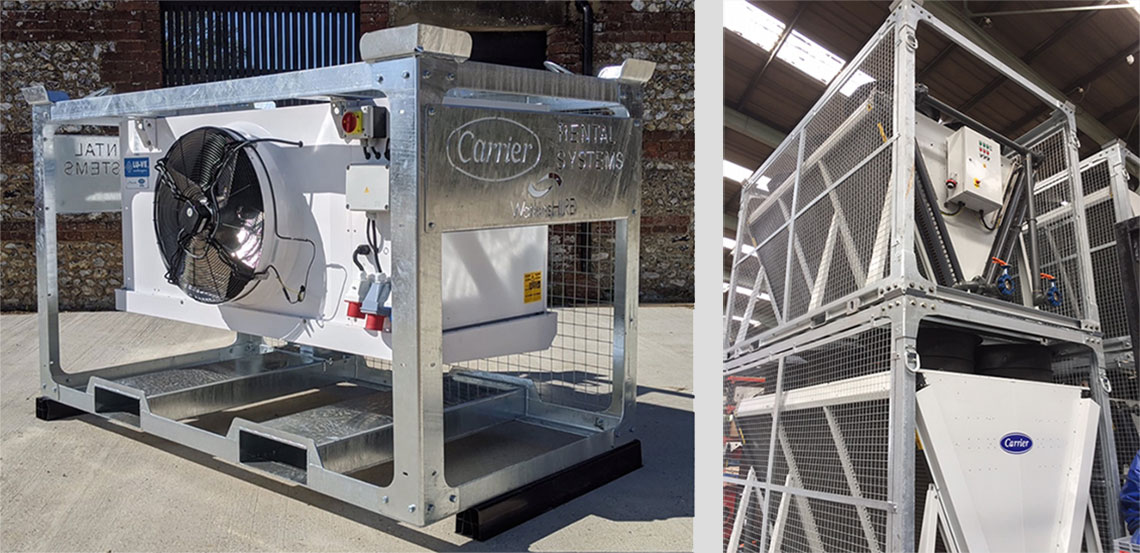 "With our project management and logistics expertise, the new VLT fleet provides a turnkey service for food distribution centres, where a suite of interlocking services are required to maintain continuity of cooling to protect high-value stock, irrespective of swings in ambient conditions," said Marc White, Director and General Manager, Carrier Rental Systems UK.
"Adding the VLT fleet to our existing steam and auxiliary power systems gives customers access to a complete set of solutions covering all temperature control requirements from a single source. Few companies offer such a comprehensive range, backed by decades of real-world application experience."
Carrier Rental Systems has hire equipment fleets at locations around the UK and Ireland, enabling a rapid response and 24/7 support. Rental periods can be as short as one day to however long the temporary cooling or heating solution is required.
Marc White, Director and General Manager of Carrier Rental Systems: "We now offer a complete set of solutions covering all temperature control requirements."