A chilling conundrum: to buy or hire?
Effective temperature control is vital for buildings and many industrial processes, and purchasing cooling and heating equipment is considered the default solution. However, there are a surprising number of situations where it makes sense to rent rather than buy. Marc White, director of Carrier Rental Systems, makes the case for rental.
Most people tend to think of a rental solution for temperature control in relation to short-term sports events, temporary exhibitions or perhaps seasonal outdoor ice rinks. However, there are some compelling reasons for seriously considering renting for many other applications, as a viable alternative to purchasing plant and equipment.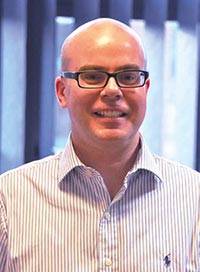 Unexpected plant breakdown is an obvious example. Buildings can quickly become uninhabitable if HVAC plant stops working, and, in the case of a process application, halted production represents an immediate and accumulating cost to a business.
In this situation, renting temporary cooling or heating provides an immediate solution, with rental equipment up and running quickly, enabling business continuity while the installed equipment is repaired or options considered for longer term replacement. In the case of process applications, periodic or seasonal surges in demand are another situation where renting offers an attractive soliton. Expanding production capacity with hire equipment enables manufacturers to meet a surge in demand without investing capital in new plant they may not need next month.
Many buildings today have HVAC plant operating at or near capacity. Hiring "top-up" systems in summer or winter months can provide the vital headroom needed to maintain comfortable conditions rather than investing in an expensive plant upgrade that may not be needed for the remaining 10 months a year.
There is also the issue of service and maintenance to consider. In the unlikely event of a problem with rental equipment, Carrier Rental Systems' engineers are on constant 24/7 stand-by, and provide on-site support to solve any problem that might arise, to restore cooling or heating.
In fact, we guarantee a trained engineer will return a breakdown call within an hour. A phone conversation normally resolves the issue and, if not, an engineer will be on site rapidly. This gives rental customers complete peace of mind.
For some companies, the cost-certainty offered by rental is one of the key attractions. So much so, that some rental customers choose it as their preferred method of financing major items involving temperature control plant. The assurance of fixed payments, backed by a 24-hour call-out in the event of breakdown, is a powerful reason to rent rather than buy.
It means no surprise bills for service or maintenance that, in the case of purchased capital plant, can amount to substantial unplanned costs for a business. Our service and maintenance support is provided as part of the hire contract and enables a company to budget with confidence and maintain cash flow.
There is a lot of concern at the moment about refrigerants and the future direction of legislation. Renting ensures compliance with all current regulations, but without a long-term commitment that might expose an end user to future changes in legislation. F-Gas refrigerants, such as high global warming HFCs in particular, are in the spotlight here. Some companies with older plant coming up for replacement are understandably nervous about committing to a certain refrigerant type, given this uncertainty.
By renting, building owners and industrial end users can take the necessary time to plan and budget for replacing obsolete plant knowing that, in the interim, their continuity of service is ensured.
There can be tax advantages with renting that finance directors and accountants readily appreciate, but which those making the actual decision may not be aware of. Business-related rental costs are typically deductible for corporation tax purposes as incurred, while capital purchases are usually capitalised and depreciated over a number of years.
We advise people to consult their tax or finance professional for additional guidance or analysis on this aspect.
Purchasing expensive items of plant or equipment can often involve a long process. Getting approval for capital expenditure, particularly in large companies, can be daunting and time-consuming. Renting provides a quick and effective short- to medium-term solution while proposals are considered and tenders organised.
Renting can also be a sensible option when a company moves into new premises or has a short lease. Hire equipment can cover this period without the expense of installing a new air conditioning or ventilation system.
Hire companies such as Carrier Rental Systems have deep experience of meeting diverse requirements, and can provide insight into the operation of chilling and heating plant as well as required ancillaries, such as ducting, pumps, fans and electrical systems.
For example, if a process customer has an existing chiller on hire from us and wants to increase capacity, perhaps due to a need to boost production, we can supply additional units to meet the need or exchange the unit for a larger capacity model.
Carrier Rental Systems has a vast range of equipment and provides national coverage across the UK and Ireland. Rental options include short-, medium- and long-term contracts.
Following our recent acquisition of Watkins Hire, we also have access to a full range of industrial steam plants, making our offering among the most comprehensive available.
In the light of all of the above, it can be seen that renting can have some compelling advantages over buying temperature control equipment.
The next time the need for new or replacement plant arises, stop and consider whether a rental solution would make more sense. It could be one of the best business decisions you will ever make.