Temporary Cooling and Heating Hire for the Office & Retail Industry in Ireland
Providing flexible, cost-effective, high value heating and cooling solutions for offices & retail, Carrier Rental Systems combines the experience of a major equipment manufacturer with the expertise of being a leading player in the international HVAC equipment rental market.
Providing a rapid response with high quality, reliable equipment, Carrier ensure that you get the best service from our customer response team. Our specification engineers can help you work out the perfect office & retail HVAC systems for you. In addition to this, our experienced technicians service and maintain our rental fleet, ensuring that they are fully tested prior to mobilisation.
On-site, Carrier Rental Systems' team of technicians can install, commission and remove equipment, saving you time and money. You can be confident that our optimised solutions will cut down running costs to the minimum, maximise performance and protect the environment.
Carrier Rental Systems have many years direct experience providing heating and cooling solutions to the office & retail industry using the following HVAC equipment:
Office & Retail HVAC Systems
You can ensure that everyone in your office or shop stays cool with increased capacity during the summer months with our air conditioning rental services. With immediate 24 hour availability of chillers, air conditioning units and spot cooling systems, you can be sure to get the right systems to keep your business running.
Rented equipment lets you utilise additional cooling which can help boost productivity and ensure that your business runs at a profit.
Short and long term contracts can be arranged so that you do not have the burden of capital cost, but can react to the demands of your business.
Supporting you
Carrier Rental Systems has the experience to easily see you through your rental needs with our flexible approach.
With our experienced staff at hand, you can get the help you need right the way through a rental. In addition to the rental of cooling equipment, we can also provide other services to complete your needs. From road closure to power supply management, we can help you from start to finish.
The following are example case studies of our equipment used within the Office & Retail industry:
Office / Retail
This leading business publisher suffered a chiller breakdown at its central London premises, resulting in a loss of cooling to its critical data centre and associated offices...
Read Full Case Study
Office / Retail
Carrier brings new levels of energy-savings through an innovative solution based on converting fixed speed centrifugal...
Read Full Case Study
Office / Retail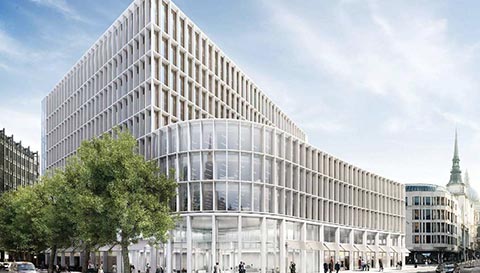 Carrier's experts developed a high efficiency, low noise heating, ventilating and air-conditioning (HVAC) solution for the...
Read Full Case Study