Temporary Cooling and Heating Hire Solutions tailored for the needs of the Food and Drink industry.
Stay productive even during periods of high and low ambient temperatures
Meet any special cooling or heating requirements with ease
Create a comfortable and safe working environment for your staff
Keep your operation up and running, even during maintenance periods
We offer a winning combination of high-value, flexible, and cost-effective rental solutions that are tailored to meet the unique needs of each and every one of our clients. As both a major equipment manufacturer and a leader in the international equipment rental market, we're uniquely positioned to offer cutting-edge solutions that will maintain business performance.
Why Carrier Rental Systems?
A Complete Package Solution
We offer turn-key solutions, managing all aspects of equipment deployment, installation and commissioning. And with our 24/7 support, you have the assurance that your business will continue to operate smoothly and efficiently.
The Best Equipment Available
Continuous investment in our fleet ensures that you have the most modern, efficient equipment available. All our rental equipment is regularly serviced and fully tested before delivery, giving you complete peace of mind.
Experienced and Knowledgeable
As one of the longest established HVAC hire specialists in Ireland, we have deep experience of the technology and its application. We understand the importance of rapid response and support for your business.
Temporary or Emergency Rental
Whether you need equipment to augment existing machinery, or provide temporary or emergency cover following a breakdown, our knowledgeable advisors will help you every step of the way.
We manage all aspects of equipment deployment, installation and commissioning
With years of direct experience, we have become a trusted provider of heating and cooling solutions to the food & drink industry. Solutions we have provided leverage various HVAC equipment, including: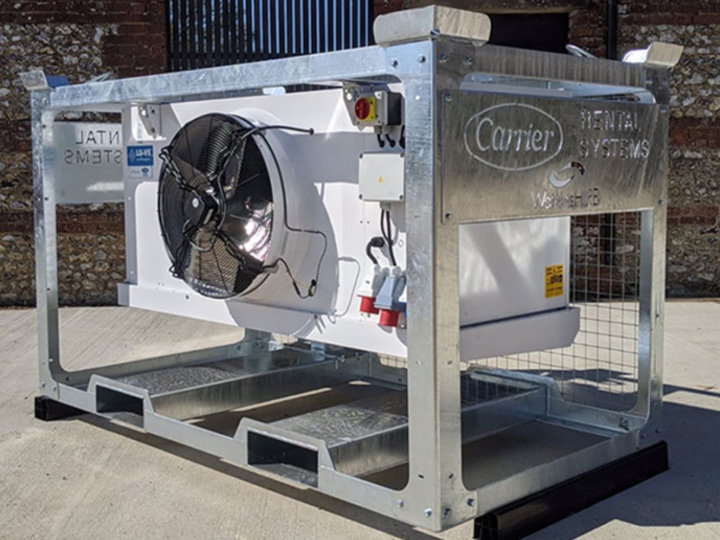 Very Low Temperature Cooling Solutions
Carrier Rental Systems, the leading temperature control specialist in Ireland and the UK, has invested in a fleet of very low temperature (VLT) cooling equipment for use in the chemical, power generation, pharmaceuticals, and food production and distribution industries.
Read the News Story
Keep Your Cool with Temporary Production Cooling and Chilled Storage
Many businesses in the food and drink industry struggle with limited production capacity during peak seasons or maintenance periods, which can lead to downtime and loss of revenue.
Carrier Rental Systems offers a range of solutions to help businesses overcome production capacity challenges. We can install stand-alone chilling systems for any process step or supply equipment to supplement existing on-site capacity on a temporary basis. This allows businesses to easily accommodate expanded capacity during peak seasons without incurring large upfront costs.
In addition, our temporary chilled water and boiler systems provide businesses with the opportunity to expand output or shorten production times with no need for downtime, as our services can be tailored to meet specific needs. Even if a business is looking for temporary chilled storage to cover maintenance, we can easily accommodate their needs.
All of the products we supply are available on a 24-hour basis with immediate availability, ensuring that businesses never have to put their production on hold. Our range of chillers, air conditioning units, low temperature hot water boilers, and complete temporary plant rooms are available in a range of sizes to suit any business needs. With our solutions, businesses can increase their production capacity and keep their operations running smoothly, even during peak seasons or maintenance periods.
Elevate Your Business with our Comprehensive Support Services
Companies in the food and drink industry often face challenges when it comes to finding temporary equipment or original designs that match their individual criteria. This can be especially true for pilot plants, single contracts, and testing facilities, which may have unique needs that can't be met by standard solutions. Additionally, companies may struggle with limited space for contingency cooling equipment or face logistical challenges when operating across international borders.
Carrier Rental Systems offers a wide range of solutions to help companies in the food and drink industry overcome these challenges. With a wealth of experience that is passed on to support our clients' rental needs, our specification team is available from the earliest stages of a project to ensure that each client gets the best solution possible.
We offer short and long term rental periods for temperature control equipment, which means that we can easily cover any client's rental needs. Additionally, we provide 24-hour coverage throughout the rental period, so clients can have peace of mind knowing that we are always available to provide support.
Clients can also sub-contract standby cooling equipment, which enables them to save space with our guaranteed contingency supply service. This means that even if a company has limited space, they can still have access to essential cooling equipment in case of an emergency.
In addition to the equipment available, we can use our multinational connections to provide solutions across international borders. Our bespoke packages can include additional services such as crane hire, road closure, power supply management, and much more. This means that no matter where a client is located or what their specific needs are, Carrier Rental Systems can provide a tailored solution to help them succeed.
Discover Our Success Stories in the Food and Drink Industry:
Food / Beverage
A leading ice cream producer suffered a chiller breakdown at one of its largest UK facilities. With high demand and production targets to meet, temperatures began rising, threatening stock and continuity of production...
Read Full Case Study
Food / Beverage
A breakdown in refrigeration plant at a high-volume ready-meal producer threatened to halt production, and let down supermarket customers with pending orders...
Read Full Case Study
Food / Beverage
We received an emergency call-out following failure of refrigeration plant cooling a warehouse containing £1million-worth of chocolates for a global confectionary producer...
Read Full Case Study